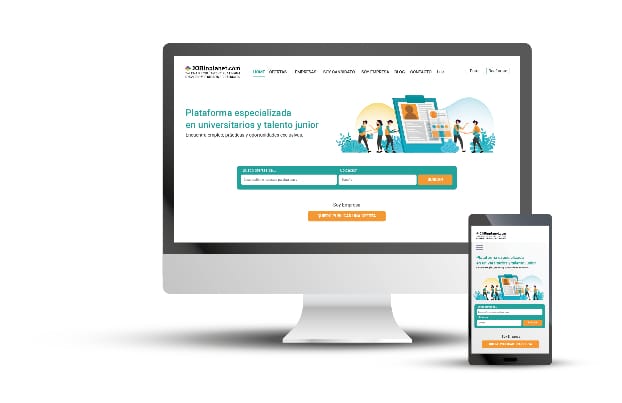 We offer our clients our Employment and Internship Platform for recruitment, filtering, and selection processes. The platform is specialised in university profiles, recent graduates, and junior graduates and offers a fast, simple, effective, and safe management.
Publish offers
Publish offers any time of the year along with the company's most popular information             -including images, videos, and killer questions- to attract the best talent. You will count on our support throughout the process.
Receive CVs
Receive potential candidates interested in the published position and consult their curriculums, their answers to your killer questions as well as their cover letters.
Manage your applications
Pre-filter and chat with the candidates, classify them by stages of the process, and download an Excel summary file of the status of your applications.
Register and create your profile
Register for free and fill out your academic profile and soft skills by adding a cover letter, video resume, social media profiles, files, or other relevant documents of interest to the Human Resources teams.
Receive job alerts and sign up
Gain access to exclusive job offers from our clients and sign up for offers that they publish throughout the year and that are of interest to you. You can filter your search according to your background, job type preferences, and location.
Receive invitations to our events
Get information about our employment conferences, professional development opportunities, orientation, and networking that we organise throughout the year. You will be able to access tools for employability and transversal skills tests.